S2E2 - S2E2: A Girl Walks Home Alone At Night (2014)
Featured Cocktail: Virgin Clotail
a year ago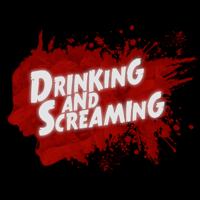 Drinking And Screaming is continuing to celebrate Women In Horror Month #WiHM and our "Love Of Horror Event" with A Girl Walks Home Alone At Night. Our movie review discussions revolve around awesome cats, "boys will be boys" culture, and destroying the patriarchy! Vancouver Fan Expo is this weekend, February 15-17th 2020 at the Vancouver Convention Center, where we'll be participating in some panels and even a live episode! This is the last week our audience feedback form will be open for submissions - www.bit.ly/dasSurvey2019.
We're ALSO donating and matching dollar for dollar all of our Patreon donations of this month to the charity WAVAW, Women Against Violence Against Women, so now is a perfect time to become a patron! www.patreon.com/drinkandscream. ** Content Warning: Sexual Assault.
Hosts: Charlene Bayer & Kelly Wright
Producer: Charlene Bayer
Editor: Kelly Wright
Logo Design: Kelly Wright
Featured Film: A Girl Walks Home Alone At Night (2014)
Featured Cocktail: Virgin Clotail
Featured Products: N/A
Drinking and Screaming is a weekly podcast that's typically released every Friday. If you'd like to support our show, please subscribe for free in iTunes' Apple Podcasts (or wherever you get your podcasts from) and leave us a review! Tell your friends about us!
Drinking and Screaming will always be free for everyone. For our fans that want to help make this show the best it can be, consider becoming a patron at www.patreon.com/drinkandscream.
Reach out to us if you have any movies you want us to review, cool cocktail suggestions, or any other ideas you want to share! It's our goal to feature local products and ingredients in our cocktails whenever possible, and we are happy to partner with local distilleries and breweries! Thanks for listening to Drinking and Screaming, and remember: Always Scream Responsibly!
Our theme music is courtesy of: "Ouroboros" and "Classic Horror 3" Kevin MacLeod (incompetech.com) Licensed under Creative Commons: By Attribution 4.0 License http://creativecommons.org/licenses/by/4.0/
Find out more at https://drinkingandscreaming.pinecast.co