S1E24 - S1E24: Krampus (2015)
Featured Cocktail: Family Survival Kit
a year ago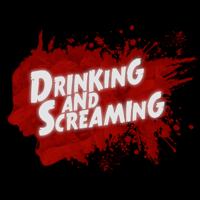 Continuing our "Month Of Candlenights" event, Drinking And Screaming watches Krampus (2015) this week! Discussions revolve around our own holiday traditions, stellar performances from Adam Scott and Toni Collette, and the film's surprising budget and visual qualities.
Hosts: Charlene Bayer & Kelly Wright
Producer: Charlene Bayer
Editor: Kelly Wright
Logo Design: Kelly Wright
Featured Film: Krampus (2015)
Featured Cocktail: Family Survival Kit
Featured Products: Sons Of Vancouver's No.82 Amaretto
Drinking and Screaming is a weekly podcast that's typically released every Friday. If you'd like to support our show, please subscribe for free in iTunes' Apple Podcasts (or wherever you get your podcasts from) and leave us a review! Tell your friends about us!
Drinking and Screaming will always be free for everyone. For our fans that want to help make this show the best it can be, consider becoming a patron at www.patreon.com/drinkandscream.
Reach out to us if you have any movies you want us to review, cool cocktail suggestions, or any other ideas you want to share! It's our goal to feature local products and ingredients in our cocktails whenever possible, and we are happy to partner with local distilleries and breweries! Thanks for listening to Drinking and Screaming, and remember: Always Scream Responsibly!
Our theme music is courtesy of: "Ouroboros", "Classic Horror 1", and "Classic Horror 3" Kevin MacLeod (incompetech.com) Licensed under Creative Commons: By Attribution 4.0 License http://creativecommons.org/licenses/by/4.0/
Find out more at https://drinkingandscreaming.pinecast.co